Port Townsend Jazz Festival - Saturday
Saturday at the Port Townsend Jazz Festival was a full one, to be sure. I started the day with a three hour rehearsal for the tribute to Count Basie on the afternoon concert. With John Clayton at the helm, and Byron Stripling and Carmen Bradford added to the usual mix, I have to say that this was by far the most pain-free rehearsal we've ever had up there. What's the lesson? Good music copying work + seasoned frontman and conductor = pain-free rehearsal.
Some friends from Seattle came up just before the afternoon concert, and all of us got our share of good music. Christian McBride's band was stellar as always -- this is a band that can play nearly any style of music out there related to jazz music, and make you think that each "thing" is the one thing that they do best. I never get tired of hearing this group; from Weather Report and Jaco to Bobby Hutcherson and the Spinners, it's all at the highest caliber with the Christian McBride Band. Kenny Barron and Regina Carter played a great duo program for the middle set; while not necessarily my "cup of tea", these two are definitely at the top of their respective games. The big band portion went off as the rehearsal did -- without a hitch. The perfect blend of vocals, solo features, Basie classics, and newer tributes, the tribute band couldn't have been more fun for either the listener or the performers.
After a quick buzz out to Beckett Point for a beachside dinner moment, we made it back to the McCurdy Pavilion to hear Benny Green and Russell Malone get into their duo thing, and while Russell Malone is certainly a tasty performer, Benny Green is a piano playing monster. I remember hearing Benny Green 15 years ago at Jazz Alley, and his playing continues to grow both technically and musically, while also getting more refined and controlled. From Charlie Parker to Roberta flack, I can only imagine that their recordings reflect the beautifully mellow sound and variety of tune choices we heard on the Mainstage that night. The Clayton Brothers Quintet finished out the evening concert with a full dose of Cannonball, Blakey, blues, and swing -- make no mistake! When it comes to quintet precision, arrangements, and craftsmanship, it sure can't get much better than this; Terrell Stafford and Jeff Clayton certainly recall the Cannonball Adderley Quintet frontline, and the diverse band-contributed compositions were equally suited. But for me, the real highlight was Emily, featuring beautifully melodic statements on bowed bass and alto. To be honest, I've rarely felt as moved when listening to live music as I was in those moments. I'll be going home to find this on a recording somewhere...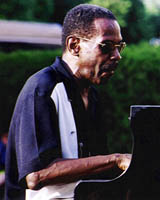 My friends and I decided to try and start the night at Ingrid Jensen and Terrell Stafford, only to find it already full! Before Terrell was even there yet! So we tried Pete's Place to hear my brother and the horn extravaganza, and again -- full! After our third miss, we jumped in the Surf, scarfed down a drink, and went to try and catch George Cables at the Upstage. Thankfully -- outdoor seating. The trio finished their set about the time we arrived, and by the time one of our group had to head back to Seattle, we were heading inside to catch the third set. George Cables, Carl Allen, and John Clayton were billed as Trio Magic, and I can't think of a more apt way to describe this trio. From Cables originals to It Could Happen to You and Over the Rainbow, Cables and Company are always a festival favorite, and with people filling every square inch of space in the room, this year was no exception in my book and anyone that heard them.
John Clayton spoke often this weekend about the musical family that is the Port Townsend Jazz Festival and Workshop. Never have I seen that feeling more openly on display than at the festival this year. To John Clayton, Becca Duran, Gregg Miller, and everyone else involved with making this year's festival a success -- bravo!